Cloudpital # 1 is one of the top hospital management system In the dynamic and ever-evolving landscape of healthcare, data analytics has emerged as a powerful tool for improving hospital management systems. Hospital administrators, clinicians, and support staff are increasingly relying on data-driven insights to enhance patient care, optimize operations, and make informed decisions. 

Cloudpital #1 hospital management system
In this blog, we will explore the pivotal role that data analytics plays in modern hospital management systems.
Enhanced Decision-Making
One of the most significant contributions of data analytics to hospital management is its ability to facilitate informed decision-making. hospital management system Hospital administrators can leverage data analytics to assess patient outcomes, track resource utilization, and identify areas for improvement. For instance, they can analyze patient admission and discharge data to determine peak admission times, enabling better allocation of staff and resources.
Improved Patient Care
Data analytics helps healthcare providers enhance patient care by analyzing clinical data. By examining patient records, physicians can identify trends and patterns that might go unnoticed with traditional methods. For instance, predictive analytics can help in early detection of diseases, thereby allowing for timely intervention and treatment.
Resource Optimization
Efficient resource allocation is critical in healthcare, and data analytics can play a pivotal role in achieving this. Hospital management systems can use data analytics to predict patient admissions and discharges, allowing them to optimize bed allocation, staffing levels, and supply chain management. This, in turn, can lead to cost savings and better resource utilization.
Patient Experience
In the age of patient-centered care, hospitals are increasingly focusing on improving the patient experience. hospital management system Data analytics can help hospitals understand patient feedback and preferences. For example, analyzing patient satisfaction surveys can reveal areas where improvements are needed, leading to a more positive overall experience.
Fraud Detection
Healthcare fraud is a significant concern, and data analytics can be a powerful tool in its detection and prevention. By analyzing billing and claims data, hospitals can identify unusual patterns and anomalies that may indicate fraudulent activities. This can save hospitals and insurance companies substantial amounts of money.
Population Health Management
Data analytics can also be used for population health management. Hospitals can analyze patient data to identify at-risk populations and develop targeted interventions. This proactive approach can lead to better health outcomes and reduced healthcare costs in the long run.
Quality Improvement
Continuous quality improvement is a cornerstone of effective hospital management. EMR software Data analytics can help hospitals monitor and measure the quality of care provided. By tracking key performance indicators, such as readmission rates, infection rates, and patient outcomes, hospitals can identify areas for improvement and implement evidence-based practices to enhance quality.
Compliance and Reporting
Healthcare is subject to numerous regulations and reporting requirements. Data analytics can streamline compliance by automating the process of data collection and reporting. Hospitals can use analytics tools to ensure that they are meeting regulatory standards and avoid costly penalties.
Predictive Analytics
Predictive analytics is a powerful subset of data analytics that can be particularly beneficial in hospital management. Hospitals can use predictive analytics to forecast patient volumes, equipment maintenance needs, and even disease outbreaks. This foresight allows hospitals to be better prepared and respond proactively to emerging challenges.
Data analytics has become an indispensable tool in modern hospital management systems. Its ability to provide actionable insights, improve patient care, optimize resources, and enhance the overall healthcare experience has transformed the way hospitals operate. As technology continues to advance and data becomes even more accessible, the role of data analytics in healthcare management will only continue to expand, ultimately leading to better outcomes for patients and more efficient healthcare systems. clinic Software Hospitals that embrace data analytics today are not just staying competitive but also leading the way toward a brighter and healthier future for all.
Detailed features: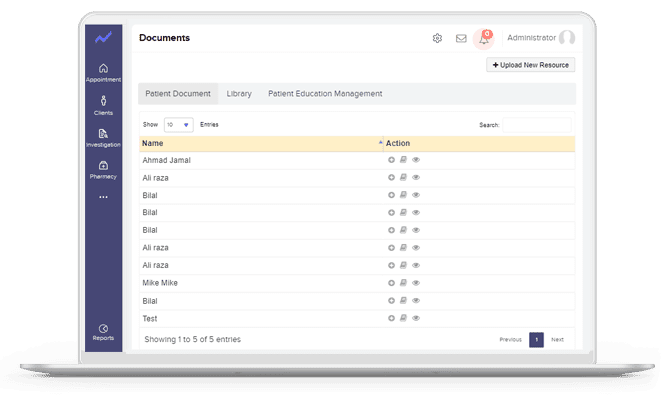 EHR Documents
For complete, accurate, and up-to-date information availability, capture, scan, and attach paper charts, clinical pictures, photographs, x-rays, audio files, and medical drawings into the electronic chart or through an integrated PACS system.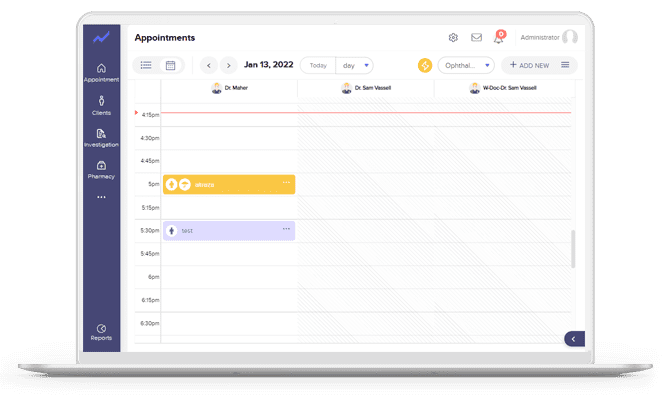 EHR Insurance
Your team will be busy updating patient records and educating patients about potential changes in their insurance plans. Our eligibility verification tool will decrease their workload in half, as well as your phone bill. No more calling insurance companies to verify patient eligibility; our technology accomplishes it for you in seconds, even before the patient arrives.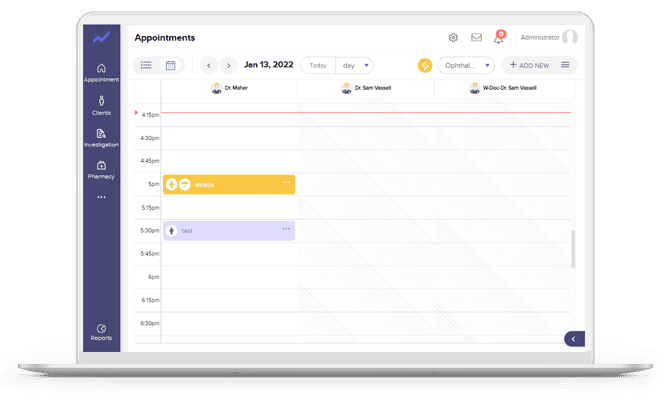 Innovative EHR For A Workflow That Just Works
On a single clutter-free screen, schedule and manage resources for various providers, locations, and days. Advanced features that improve efficiency and service quality include recurring appointments, direct eligibility checks, and administrative notifications.

hospital management system
hospital management system
hospital management system
hospital management system
What role data analytics play in hospital management system? similar software solutions prices were updated on 2023-12-09T11:01:08+00:00  in Saudi Arabia in Mecca, Medina, Riyadh, Khamis Mushait, Yanbu, Jeddah, Dammam, Unaizah, Uqair, Ha'il, Ta if, Al Bahah, Dhahran, King Abdullah Economic City, Najran, Diriyah, Qatif, Khafji, Jubail, Abqaiq, List of Cities and Towns in Saudi Arabia, Ras Tanura, Turubah, Jazan Economic City, Knowledge Economic City, Medina, Khobar, Abha, Tabuk, Saudi Arabia,




similar software solutions prices were updated on 2023-12-09T11:01:08+00:00  We also provide in Saudi Arabia services solutions company in Hafar Al-Batin, Udhailiyah, Al-Awamiyah, Hofuf, Hautat Sudair, Buraidah, Tayma, Duba, 'uyayna, Saihat, Al-Kharj, Al-ula, Jizan, Rumailah, Ar Rass, Arar, Shaybah, Al Majma'ah, Rabigh, Dhurma, Haradh, List of Saudi Cities by Gdp Per Capita, Badr, Sudair Industrial City, Baljurashi, Shaqraa, Al-Khutt, Habala, Ad Dawadimi, Dawadmi, Layla, similar software solutions prices were updated on 2023-12-09T11:01:08+00:00  Price is SAR 100 and this was updated on updated on 2023-12-09T11:01:08+00:00

similar What role data analytics play in hospital management system? software solutions prices were updated on 2023-12-09T11:01:08+00:00  in Saudi Arabia in Haql, Afif, Al-Abwa, Farasan, Al-Jaroudiya, Thadig, Al-Thuqbah, Al Wajh, Almardmah, Al-Zilfi, Muzahmiyya, Prince Abdul Aziz Bin Mousaed Economic City, Tharmada'a, Skaka, Um Al-Sahek, Sharurah, Tanomah, Bisha, Dahaban, Al Qunfudhah, Qurayyat, Saudi Arabia, Ha'ir, as Sulayyil, Al Lith, Turaif, Al-Gway'iyyah, Samtah, Wadi Ad-Dawasir, Az Zaimah, Safwa City, Jalajil, Harmah, Mastoorah, Hotat Bani Tamim, Jabal Umm Al Ru'us, Rafha, Qaisumah, Al-Ghat, Hajrah, Al-Hareeq. Excerpt: Jeddah (also spelled Jiddah, Jidda, or Jedda; Arabic: Jidda) is a Saudi Arabian city located on the coast of the Red Sea and is the major urban center of western Saudi Arabia similar software solutions prices were updated on 2023-12-09T11:01:08+00:00  Price is SAR 100 and this was updated on updated on 2023-12-09T11:01:08+00:00
15-09-2023